Central Cargo Examination Directorate is mainly responsible for examination of sea cargo imported into the country either as Full Container Loads (FCL), as Less than Container Loads (LCL) or bulk cargo in order to ensure recovery of due revenue and compliance with prohibitions and restrictions imposed by the laws. In addition it is responsible for striking a balance between trade facilitation and control by facilitating legitimate trade through implementing an effective risk management system for arresting illegal imports of sea cargo.
About
Us
Examination
Procedure
Applicable
Laws
Required
Documents
Abbreviations


Contacts


Introduction
Central Cargo Examination Division examines sea cargo at landing points in Colombo Port and Inland Clearance Depots outside the Colombo Port. FCL cargo is examined in Grayline Yard I, Grayline Yard II and Rank Container Terminal. LCL cargo is examined either at New Nuge Road warehouse or landing points; Bandaranayake Quay, Jaya Container Terminal (JCT). The selectivity of cargo for examination is performed based on associated risk by the Senior Deputy Directors attached to Screening Unit of Cargo Examination Directorate. It is performed based on automated risk criterion that are set by the Risk Management Committee, chaired by the Director General of Customs and intelligence and intuition of senior Deputy Directors attached to Screening Unit. Depending on the level of associated risk, the high risk FCL cargo is directed to High Risk Cargo Unit at Grayline Yard I, the medium risk cargo is directed to examination points at Grayline Yard I or II, and the low risk cargo is directed to Rank Container Terminal (RCT). As step of facilitation of legitimate trade, the low risk-FCL cargo is further directed for scanning to expedite clearance with minimum examination. In addition, the consignments of single commodity with bulk of containers are released on Green Chanel from Cargo Examination Main Office as another step of facilitation of legitimate trade. There are four scanners in place as facilitation tools for 24 hours operation at Colombo Port and Rank Container Terminal.
Scope
The scope of examination is not limited to the sea cargo imported for home use. The sea cargo imported for industries operating under the Board of Investment (BOI), Temporary Importation for Export Programme (TIEP) and importation under Customs Bonded Scheme are also subjected to examination.
Vision
Dedicated to protect society, economy and environment of the country, contributing for collection of due revenue to the state and facilitating legitimate trade.
Mission
Dedicated examination of high risk cargo while examination of low risk cargo through scanning and random check.
Objectives
Ensure collection of due revenue on imports of sea cargo.
Ensure implementation of prohibitions and restrictions as imposed by laws.
Facilitation of legitimate trade.
Goods Imported for home use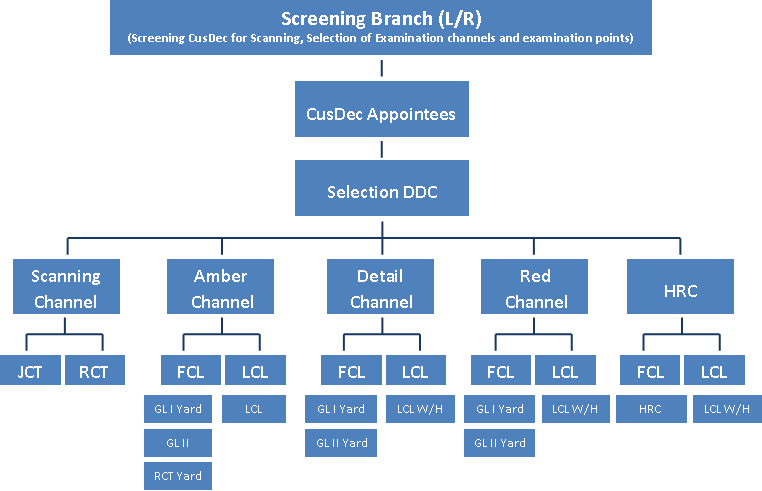 Goods Imported under Bonds/TIEP/INFAC Scheme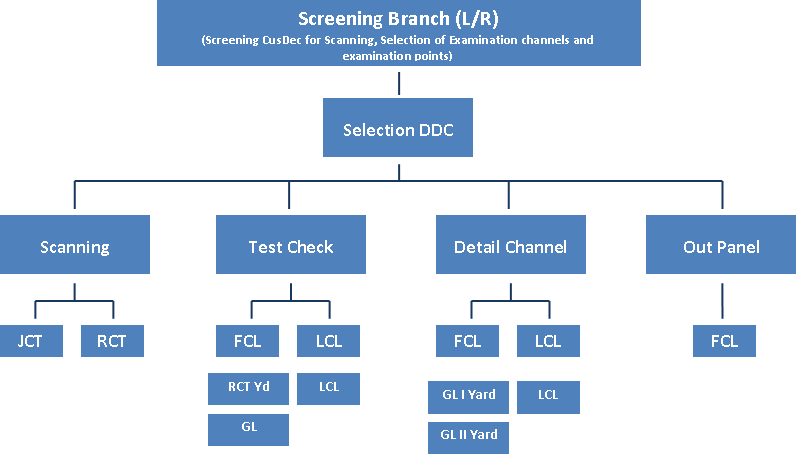 Goods Imported under BOI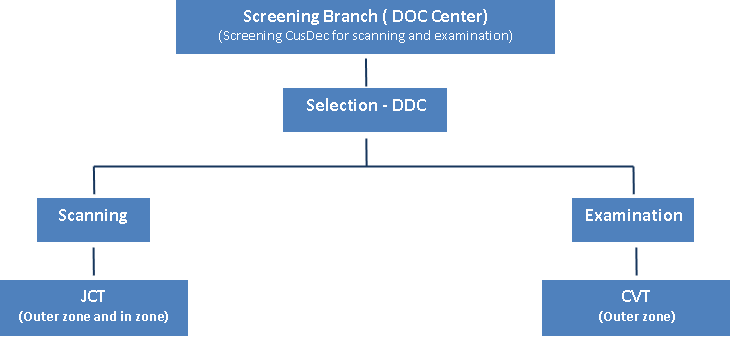 Prohibitions and restrictions and power of Parliment to add thereto. Section 12 of Customs Ordinance
Goods in Warehouses to be liable to the duties imposed by the ordinance Section 13 of Customs Ordinance
Definition of time of an importation and of and exportation Section 16 of Customs Ordinance
Importer to deliver bill of entry together with other documents (CusDec) Section 47 of Customs Ordinance
Entry of bill of sight Section 49 of Customs Ordinance
Entry of re-imported goods by bill of store Section 53 & 54 of Customs Ordinance
Required Documents
Delivery copy of the processed CusDec with supporting documents in terms of Section 47 of Customs Ordinance.
Supporting Documents
Bill of Lading
Delivery Order
Invoices
Value Declaration
Packing List
Catalogues/ Literature/ Manufactory process of the product
Relevant licenses Certificates and approvals when applicable
Panel Examination Form
Required Forms for Cargo Examination
| | | |
| --- | --- | --- |
| DC | - | Director of Customs |
| DDC | - | Deputy Director of Customs |
| SC | - | Superintendent of Customs |
| Appraiser | - | Officer Appraise the CusDec (Deputy Superintendent of Customs) |
| DSC | - | Deputy Superintendent of Customs |
| CIC | - | Chief Inspector of Customs |
| IC | - | Inspector of Customs |
| RCT | - | Rank Container Terminal |
| HRC | - | High Risk Cargo |
| GL I | - | Grayline I Yard |
| GL II | - | Grayline II Yard |
| CVT | - | Cargo Verfication Terminal |
| NNR | - | New Nuge Road Warehouse |
| JCT | - | Jaya Container Terminal |
| KK | - | Kochchikade warehouse |
| GP | - | Guide Pier |
| PVQ | - | Prince Vijaya Quay |
| DOC Center | - | Documentation Center |
| BQ | - | Bandaranayake Quay |
| LR | - | Long Room (CusDec processing office) |
| BONDS | - | Customs Bonding Division |
| TIEP | - | Temporary Importation for Export purpose |
| INFAC | - | Investor Facilitation Center |
| FCL | - | Full Container Load |
| LCL | - | Less Container Load |
| CO | - | Customs Ordinance |
Postal Address
Sri Lanka Customs
Cargo Examination Main Office
Rank Container Terminal
No 246
Avissawella Road
Orugodawatta
Contact Telephone Numbers
Main Office
Director of Customs - Office +94 11 4625412 Fax +94 11 4625448
Deputy Director of Customs - Office +94 11 4625408
Superintendent of Customs - +94 11 4625410
OIC - +94 11 4625407
Grayline I Yard - Orugodawatta - FCL Cargo
Deputy Director of Customs - +94 11 4011239
Superintendent of Customs - +94 11 4062233
Grayline II Yard - Grandpass - FCL Cargo
Deputy Director of Customs - +94 11 5769516/+94 11 5765521
Superintendent of Customs - +94 11 4619744/+94 11 4619612/+94 11 5765648/576/576513 Fax : +94 11 4619612
High Risk Cargo Unit - FCL Cargo
Deputy Director of Customs - +94 11 4004118
NNR Yard - Peliyagoda - LCL Cargo
Deputy Director of Customs - +94 11 2949190
Jaya Container Terminal (JCT) - LCL Cargo/ Bulk Cargo
Guide Pier/ Kochchikade W/H PVQ W/H
Deputy Director of Customs - +94 11 2438089
Superintendent of Customs - +94 11 2438089
Bandaranayake Quay W/H (BQ) - LCL Cargo
Deputy Director of Customs - +94 11 2665528
Superintendent of Customs - Ext 2305
Container Verfication Terminal (CVT) BOI Cargo
Deputy Director of Customs - +94 11 2524559
Screening Branch (L/R)
Deputy Director of Customs - +94 11 2323763/+94 11 2337075
Screening Branch (L/R) (TIEP/Bonds/INFAC)
Deputy Director of Customs - +94 11 2342507
Screening Branch (Doc Center) (BOI)
Deputy Director of Customs
Screening Branch (JCT)
Deputy Director of Customs - +94 11 2323763