The champion medal was awarded to Ms L N A Avani Nissanka on 29.11.2021 by Director General of Customs Major General (Retd.) G V Ravipriya in the presence of members from Port Control Unit Sri Lanka Customs, Deputy Director of Customs Mr G B Gnanaraj, Superintendent of Customs Mr K N Shunmugathasan, , Assistant Superintendent of Customs Mr G D C Jayasuriya and Assistant Superintendent of Customs Ms M K H S Karunarathna.
In September 2021 United Nations office on Drugs and Crime (UNODC)-World Customs Organization (WCO) Container Control Program (CCP) has announced Ms. Avani Nissanka, Assistant Superintendent of Sri Lanka Customs as one of their Champions for Change (C4C)
The UNODC-WCO – CCP was established as a joint initiative of the UNODC and the WCO in 2004. Faced with such a complex and globalized problem, the CCP embraces a nuanced, holistic and multi-sectoral approach by providing continuous monitoring and oversight, offering a plethora of context-specific training programmes and strengthening cooperation between state agencies and with the private sector. The mission of the CCP is to build capacity in Member States seeking to improve risk management, supply chain security and trade facilitation in seaports, airports and land border crossings in order to prevent the cross-border movement of illicit goods. At present, the CCP is operational in over 70 Member States. More than 120 Port Control Units (PCUs) and Air Cargo Control Units (ACCUs) including the Port Control Unit – Colombo 2014 and Air Cargo Control Unit -Katunayaka 2017, Sri Lanka
In October 2019, coinciding with CCP's 15th anniversary, a new initiative was launched within the framework of the Women's Network. The CCP Champions for Change (C4C) initiative takes lead from existing gender champion endeavors to establish a network of women and men affiliated with the CCP who commit to the ideals of the betterment of women's working conditions.
"From the very beginning, from when Avani joined the Port Control Unit in Colombo, she took the CCP Women's Network (WN) objectives and ran with them. She has actively promoted the WN, but more importantly the role of women in Customs generally, actively in her work as a Customs Officers and whenever the Network has reached out to her, she has gone above and beyond in providing us with feedback and details. She has made a real difference and shown the importance of having women properly represented in customs administrations. I am proud to add that I have had the pleasure of meeting her in person several times and once international travel is again easier, I hope there will be more such possibilities in the future."
Anne Linn Jensen
Programme Officer
Container Control Programme (CCP)
Organized Crime and Illicit Trafficking Branch
United Nations Office on Drugs and Crime
Vienna, Austria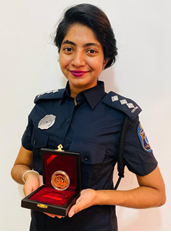 "Customs and law enforcement can be very challenging work environments. In these sectors, it becomes even more important for women to showcase their capacities and leadership skills. Being recognized as a CCP Champion for Change was a very special moment in my career as Customs officer. I am honoured to be a CCP Champion and eager to continue working to promote women's contributions within the Programme. The sky is the limit if you are willing to fly. My sincere gratitude to the UNODC-WCO-CCP for the recognition given not only to myself but also to the Department of Sri Lanka Customs."
Avani Nissanka
Assistant Superintendent of Customs