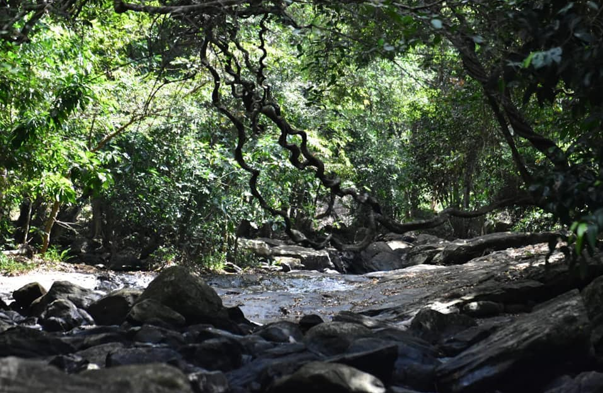 As the frontline protectors of Sri Lanka's borders, Sri Lanka Customs is safeguarding our country at and beyond our borders. One of the major goals of Sri Lanka Customs is to protect the Sri Lankan society and its values, whether they are economic, environmental, historical or social. Sri Lanka Customs is bound to enforce various statutes relating to biodiversity, culture and national heritage at the Customs borders.
Having regarded to the need of achieving this goal, a Biodiversity Protection Unit has been established in Sri Lanka Customs, in 1993. According to the available information, this is the world's first Customs Biodiversity Protection Unit
Possessing a written history of two thousand five hundred years and another thousands years of prehistoric evidence, Sri Lanka has marked its place in the world map with its rich historic and cultural heritage. Sri Lanka Customs has taken the responsibility of protecting this legacy seriously, and is actively engaged in preventing the illegal disposal of portable artefacts of Sri Lankan heritage along with preventing the smuggling of wild life.
During the process of customs reformation, in 2010, Biodiversity Protection Unit was reformed and renamed as Biodiversity, Cultural and National Heritage Protection (BCNP) Division and was placed within Social Protection Directorate. Hence the scope of the bio diversity unit was enhanced in order to accommodate Cultural and national heritage protection also.
Functions
Enforce National and International laws relating to the movement of biodiversity related products.
Check on description, classification and valuation of all biodiversity related imports and exports.
Check on licensing requirements governing the import and export of fauna and flora and related products and any other irregularities affecting the functioning of Customs operations.
Promote the development programs of the country through sustainable imports and exports of fauna and flora in a manner which not harm biological heritage of the country
Related Links
Vision
To be the best Customs division in south Asia on biodiversity and cultural heritage protection

Mission
Enforce the law in order to protect Biodiversity, Cultural & National heritage and ensure due revenue while facilitating the trade.
Objectives of BCNP
Biodiversity Protection and ensure due revenue of Sri Lanka by enforcement of relevant laws while facilitating the trade at Customs points
Enforce and monitor the National and International Laws relating to the Import and Export of Biodiversity related items.
Promotes the development programmes of the country through revenue collection, facilitation and enforcement in import and export of fauna & flora and also in a manner, which will not harm the rich biological heritage of the country.
Provide expert opinion and represent the department when required.
Educate and create awareness among the Customs staff as well as the public on the subject matter.
Exchange information and develop intelligence with National and International institutions concerned
| Law / Regulation | View |
| --- | --- |
| International conventions on environment to which Sri Lanka has become a party | |
| Laws governing the movements of (Import & Export) of Fauna & Flora | |
| Laws governing the movements of Cultural Heritage | |
Destruction of Blood Ivory forfeited by Sri Lanka Customs at Galle Face Green
Sri Lanka Customs publicly destroyed (crushed) 359 tusks of ivory weighing about 1.5 tonnes at the Galle Face Green on 26thJanuary 2016, at an event attended by Wildlife Conservation Minister Mr.GaminiJayawickramaPerera and Mr.John Scanlon, Secretary General of the Convention on International Trade in Endangered Species (CITES).The ivory was crushed first, and was incinerated at Holcim Factory in Puttalam on 27th January 2016, in the presence of Customs Officials. These tusks were confiscated by Sri Lankan Customs officials on May 2012 while it was in transit to Dubai from the Kenyan port of Mombasa, falsely labelled as storing plastic waste.
Sri Lanka is the first South Asian nation to publicly destroy ivory obtained through elephant poaching. This showed the world, Sri Lanka's commitment to curb the illegal international trade of wild fauna and flora, and zero tolerance policy on blood ivory; sending the right message to illegal fauna and flora racketeers.

E-waste Management week at Customs Head Office
As a part of continuous environment protection and conservation programs conducted earlier, an e-waste collecting program was organized at the headquarters premises by BCNP branch, during the period of 21.11.2016 to 20.12.2016. During that period, collecting bins were placed near the lifts at the ground floor and basement floor and the customs officers were made aware via notices, brochures and public announcements. Collected e-waste was sent for Recycling.


Disposing of forfeited bird nests and other biodiversity articles at Madampitiya Cemetery
Sri Lanka Customs publicly disposed forfeited bird nests, peacock feathers and other biodiversity related goods by burning and destroying at Madampitiya Cemetery premises, Colombo 15, in the presence of Director General of Customs and other Customs officials on 18.10.2016. The purpose of this event was to draw attention of general public and to point out that the wanton destruction of our natural resources is an unpardonable offence.
In addition to that Sri Lanka Customs disposed some other forfeited goods (sea shells, swords, guns etc.) in the presence of Customs officials on 17.11.2016.


Donation of forfeited sea shells, corals, preserved butterfly frames and other biodiversity articles by Sri Lanka Customs to Universities
Sri Lanka Customs handed over forfeited sea shells, corals, preserved butterfly frames and other biodiversity articleshaving educational value, to the University of Colombo and UwaWellasa University for their research and academic purpose, on 18th January 2017 at the Director General Customs' office, Sri Lanka Customs Headquarters, Colombo 11.


Donation of forfeited Sandalwood to Sri Lanka Ayurvedic Drugs Corporation for manufacturing medicine
Sri Lanka Customs handed over forfeited sandalwood timber logs weighing nearly half a metric ton valued at two million Rupees, to Sri Lanka Ayurvedic Drugs Corporation for manufacturing drugs. This event took place on 31.05.2016 at their premises Nawinna, Maharagama in the presence of DGC, Customs Officials, Chairman of Sri Lanka Ayurvedic Drugs Corporation and staff of Ayurvedic Drugs Corporation .The donation was done parallel to the World Environment Day scheduled for 05th June 2016.


Participation at Jewels 2016 exhibition
Biodiversity, Cultural and National Heritage Protection Branch of Sri LankaCustoms attended "Jewels 2016" Gem and Jewellery exhibition from 16.12.2017 – 18.12.2016 at BMICH Committee lounge. There, Sri Lanka Customs held a stall exhibiting samples of forfeited bio diversity related articles in order to aware general public and travellers that the Smuggling of these natural resources out of the country is an unpardonable offence and to prevent the commission of such environment crimes before it is occurred.
Brochures by the BCNP:
Awards achieved by BCNP
Activities of Biodiversity Protection Unit has causes to draw some Awards to Sri Lanka Customs:
Due to the activities of Biodiversity Protection Task Force of Customs, in 1996 the Customs Department has been elected and awarded by the "Soba Sineru" (SOTV). "National Environmental Award of Sri Lanka" given by "Sri Lanka Environmental Journalists Forum" (SLEJF) in recognition of outstanding practical achievements in the protection and improvement of the environment within last decade(1986 – 1995)
Year 1996- The activities of Biodiversity Protection unit was selected as one of the best Environmental success stories and this was featured in the book of SLEJF which was written on the above topic under the title of "customs officers fighting against Gene Piracy"
Due to the performance on the subject matter, some officers of BCNP have been awarded as follows:
Year 2005 - Presidential Environmental Award "With the objective of protection the environment for future generations through the promotion of environment friendly culture" – presented the President's Environmental Award – 2004 for Excellent Services Rendered in the outstanding contribution sector.
Year 2004 – Awarded by Customs Inspectors Union for "Outstanding Performance on Controlling of Illegal Wildlife Trade & Antiquities".
Year 2004 – Awarded by Young Zoologist's Association of Sri Lanka for "The Contribution towards Conservation of Biodiversity of Sri Lanka".
Year 2002 – Awarded by "Mihidaru Prasadini", Environmental award by the Federation of Green Movements (Haritha Eka Muthuwa) for the commitment to protect the natural resources of Sri Lanka.
Year 2001 – Awarded by the Circle of the Small Scale Entrepreneurs of Ornamental Fish for "The outstanding performance in Protection of Natural Resources from Illegal Export Trade".
The performances of BCNP & BPTF has been appreciated by various institutions such as:
Green Media Forum - 2005
Thurstan College, Colombo - 2004
Dharmashoka Vidyalaya, Ambalangoda - 2003
Dharmapala College, Pannipitiya - 2002
Sunethra Devi Vidyalaya, Pepiliyana - 2001
North – East Commander of Sri Lanka Navy - 1999
Biodiversity, Cultural & National Heritage Protection Branch, 
Sri Lanka Customs, No.40, Main Street, Colombo 11, Sri Lanka.
Tel: +94 11 2221312 / +94 11 2472179
Fax: +94 11 2472179
E-mail: bpuslcustoms@gmail.com
bpu@customs.gov.lk